Heavylift Handling

(Case Study A: August 2015)
Cargo: Seawater Ultra Filtration package: Unit dims: L18.30 x W12.20 x H10.30 meters = 2,300 cbm and
Gross Weight: 204.60 tons
»

Ex works pick up with 2 parallel sets Self Propellable Modular Trailers [SPMTs] plus jacking with transport beams: Truck from fabricator Batam yard to Batam jetty for roll-on loadout on 210 foot barge including hotworks lashing/welding and barge ballasting to balance weight distribution

.

»

Direct transfer by tug-barge to Jurong port for overside direct loading using outbound MV cranes with tandem lift

.

»

UF skid has uneven bottom protrusions: different transport beam settings needed for jacking during export trucking and roll-on stowage on barge deck

.

»
Specially cut wooden blocks positioned beneath cargo MV deck prior jacking down cargo to even out weight before lashing with hotworks started.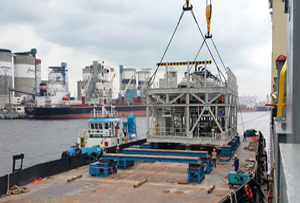 (Case Study B: May 2013)
Cargo: 14 Heavy Steel Cable Reels:
Direct over-side discharge ex MV in Jurong Port onto barge of Unit Weights:
Smallest 150 tons & Largest at 220 tons

»

Barge deck setting pre-arranged at barge base prior mobilisation of ballastable 230 ft barge with heavyload-spreaders deployed

.

»

Special sea-fastening with hotworks on barge alongside MV at Jurong port and barge ballasting to even weight prior receiving cargoes per client's nominated surveyor's requirements

.

»

Barge-swinging from berthing port to starboard sides:with pilotage & assisting tug to offset MV crane's lifting and reach constraint and even out cargo weight distribution on barge deck before moving laden barge to floating storage site

.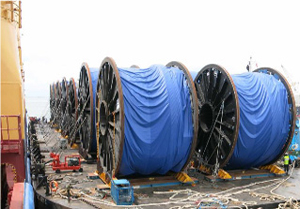 (Case Study C: November 2014)
Cargo: 4 x Bundles of Studlink Rig Anchor Chains each 152 tons: Import delivery ex Vessel at Jurong port by barge for transit floating storage at private jetty plus transfer to another barge to connect onto AHTV at Jurong Port for re-export

»

2 vessel cranes in tandem (1x150 ton SWL) used for over-side discharge – with specially fitted lifting gear onto barge alongside inbound Mother Vessel at Jurong port

.

»

Barge scheduled for overnight berthing in Jurong Port due to night-tow restrictions from MPA: with special scheduling of stevedorage work at Jurong port to fit in

.

»

Anchor chains placed on barge for 2 months at private waterfront prior delivery to Jurong port for transfer to load on Maersk offshore AHTV equipped with spooling machine

.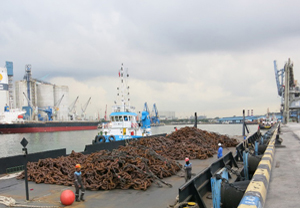 (Case Study E: December 2013)
Cargo: 2 Units Fuel Skids: larger unit overheight at dimensions: L9.0 x W4.0 x H5.67meter, gross unit weight 40 tons
»

Chartered 150foot barge to transport from supplier waterfront in Tuas to Jurong Port for discharge onto trailer

.

»

Jurong Port: double handling with discharge using mobile crane onto trailer & then transfer loading onto Anchor Handling Tug (AHT) for delivery to offshore location in Gulf of Thailand.



»

Full sea-fastening with hotworks, stowage layout-vessel setting, full handling and loadout method statement, stability and lashing calculations & survey documents provided per client's nominated Marine Warranty Surveyor requirements were met in full for AHT [prior to departure]

.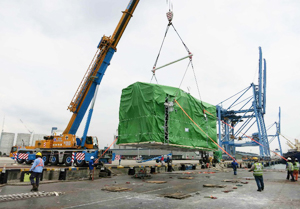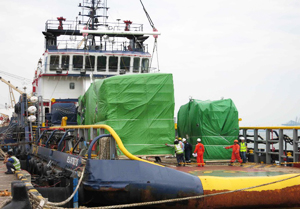 (Case Study H: January 2016)
Cross Border Trucking: 2 Hydro Hammers each: Dims 14.30m (L) x 3.00m (W) x 2.99m (H)& Unit Gross Weight: 160 ton from Tuas to Pasir Gudang port for export


»

Use 700 ton mobile crane to lift from storage yard onto 2 multi-axle trailers at Tuas South with full MOM-certified safety, lashing and lifting team in attendance

.

»

Use 2 sets trailers each of 10x axle lines for cross-border (bonded) trucking from Singapore to Pasir Gudang.



»

Cargoes escorted by police outriders, operations & technical teams (in 2 separate vehicles) throughout journey to Pasir Gudang port for direct loading onto outbound vessel, with Customs clearance at Woodlands and Johor Bahru checkpoints

.